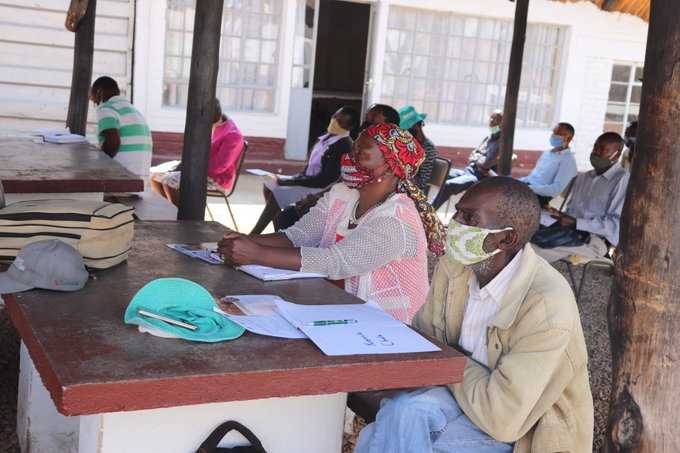 A cross section of participants at a syndicate establishment meeting held in Makonde district
The VALUE project established eight District Pig Producer Associations (DPPAs) in Mashonaland East and Mashonaland West provinces in collaboration with key stakeholders namely the Pig Industry Board (PIB), Agritex, Department of Veterinary Services, Ministries of Women's Affairs and SMEs, Youth, Rural District Council (RDC) as well as local government representatives.
"The farmers greatly appreciated the formation of the District Pig Producer Associations which will in turn affiliate to the provincial Pig Producer Business Syndicates which are vehicles of driving commercialisation for small and medium pork producers", said George Mudanga of Braford Farming – the Mashonaland West Integrator.
Chegutu, Mhondoro Ngezi, Zvimba and Makonde districts now have their own producers' associations for the Mashonaland West production corridor, whilst Seke, Marondera, Goromonzi and Murehwa have created their own associations for the Mashonaland East production corridor with support from Shamiso Farms (the Mashonaland East integrator) and the government line ministries.
The district associations are avenues for farmers to address several challenges affecting the competitiveness of small and medium scale producers in the pork value chain through collective action from input supply to marketing to increase production and marketing efficiencies. During the meetings, farmer representatives were trained on topics that include commodity leadership, governance skills, conflict resolution, constitution development, managing business activities and value chain actors' engagement among others.
The association committee members are now working on constitution development, mobilising groups to initiate collective action activities to reduce transaction costs during production and marketing as well as private sector engagement for win-win partnerships. The committees, with support from private integrators and other value chain partners, will guide farmers towards improving production, productivity and profitability on their business enterprises to realise more profit. The Business Management Units (BMUs) will be established to support syndicates value chain business activities through lowering costs on input supply (feed, veterinary drugs and vaccines), transport and logistics and value addition and processing.