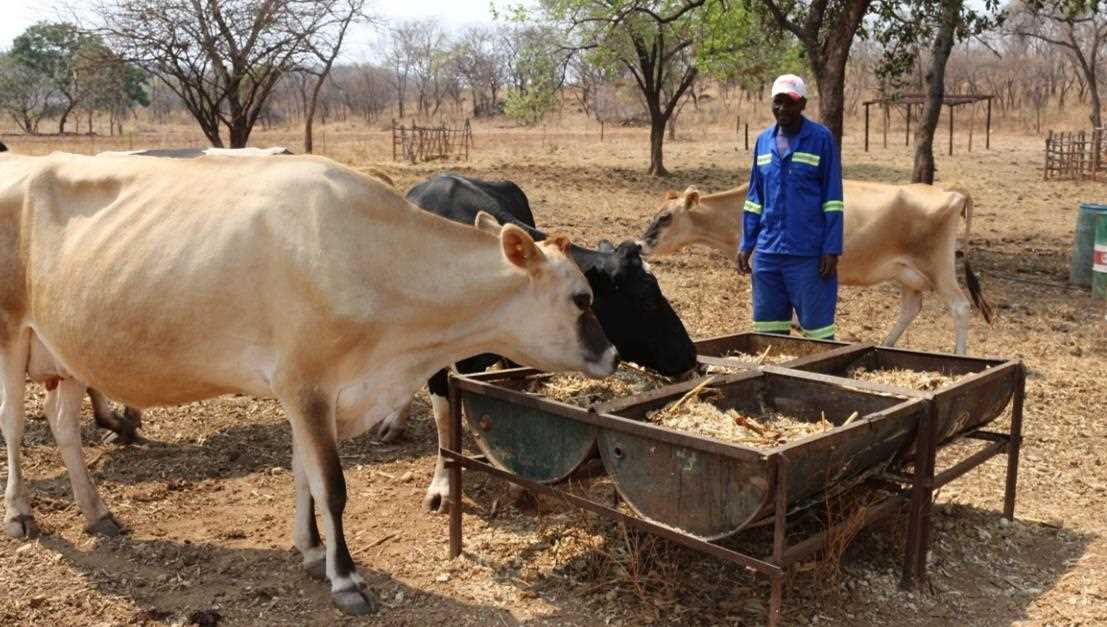 Claudious Burira feeding his dairy cows at his Chitomborwizi Farm in Makonde district, Mashonaland West Province.
The path to overcoming poverty is steep and lined with numerous obstacles. For many rural Zimbabwean households, small-scale agriculture production is the only viable income source, and eking out a living on small plots with limited access to inputs, credit, and markets is difficult at best.
To help smallholders overcome these obstacles, the Transforming Zimbabwe's Dairy Value Chain for the Future (TranZDVC) project introduced matching grants to offer assistance to purchase dairy cows in project-supported communities. Production specialists then worked hand – in- hand with beneficiary farmers to introduce livestock management and feeding practices that result in healthy, productive cows.
Claudius Burira, of Chitomborwizi small-scale farming area in Makonde district in Mashonaland West Province, received six heifers this year from the Matching Grant Facility. He had already started attending project trainings. In just a few months, he had learnt how to better take care of cows to increase milk production at his farm. He constructed a covered area for the cows, began preparing his own feed instead of purchasing it, and started monitoring the cows' nutritional intake. He is growing leucaena, a legume fodder crop that grows in tropical and subtropical environments. Leucaena provides high quality feed for ruminant animals that boosts live weight gain both per animal and per hectare, compared to grass-only pastures.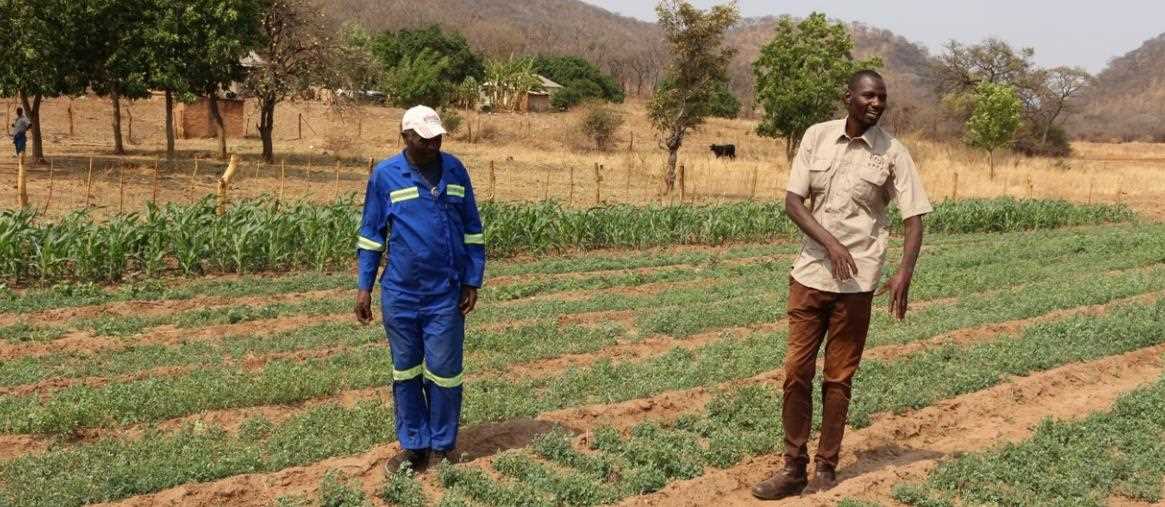 Farmer Claudious Burira (left, in blue work suit), and Tapiwanashe Dhewa, of Zimbabwe Association
of Dairy Farmers (ZADF), inspecting a lecena fodder crop at Burira's farm.
Thanks to these improved techniques, Burira and his family began seeing dramatic improvements in milk production. Burira has a 22 dairy herd (14 cows, six heifers, two in-calf). They used to milk four cows per day, with each cow producing an average of 16 litres of milk a day, a number that has increased to 30 litres per cow a day. Milking eight cows now, the daily production translates to 300-350 litres of milk a day and sells at US$0.38 per litre. The family is guaranteed at least US$3,900.00 in milk sales every month.
''TranZDVC has helped me improve my dairy farming through the provision of better cow breeds and solar powered borehole. One of the project's key interventions is linking farmers with commercial suppliers and buyers, and this has seen my income grow,'' said Burira.
He adds: ''The dairy cow scheme leads to more income as quality animals produce more milk as opposed to poor, indigenous breeds.''
With the increased income, the Burira family is investing in other income-generating activities, including high-value vegetable production. They also plan to process some of the milk into higher-value dairy products to sell to local markets.
Burira and his family are a true testament to TranZDVC's integrated approach to improving incomes and nutrition. The family is participating in a number of other project activities, including health and nutrition trainings and natural resources management.
The dairy cow project is proving to be a successful way to bring family members into income-generating activities. The activity is so popular in Makonde district, offering farmers the initial investment to buy cows, and then linking them to appropriate trainings and technical assistance.