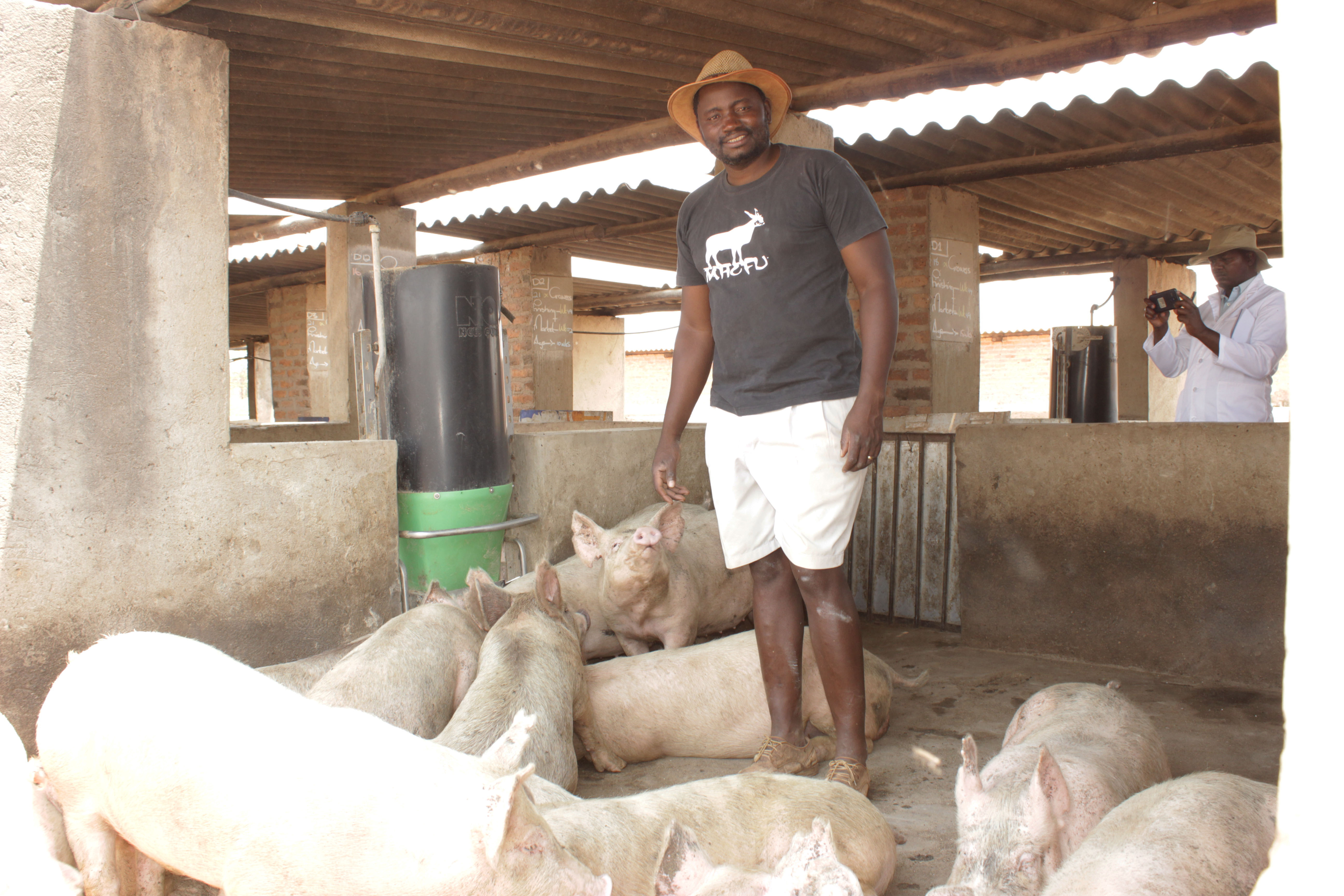 George Mudanga, a pork value chain integrator for the Mashonaland West Corridor. He is one of the top pig producers in Chegutu district.
The Technical Assistance to ZAGP (TA-ZAGP) team visited Braford Farming in Chegutu district in Mashonaland West province. Established in 2011, the sprawling and highly productive farm is run by George Mudanga, who is involved in livestock, crop and horticultural production. He is one of the top pig producers in the district.
As he confidently takes the team on a tour of his piggery, the state of the pig housing infrastructure and the condition of the animals is evident of the passion he has for the venture and the high level of expertise, horned by over 9 years of experience in pig production.
Explaining his journey into farming, Mudanga said, "Braford Farming started operations in 2006 and the pig rearing enterprise started in 2011. Currently, I am running a 130 sow unit and supplying an average of 30 pigs to major retailers and butcheries in Harare every week".
Mudanga is an integrator under pork value chain component of the Value Chain Livestock Upgrading and Empowerment (VALUE) project. The project will develop the technical and management capacity of Braford Farming to become an effective and visionary value chain champion. Mudanga will be expected to create innovative private-public-community partnerships to improve production and productivity of pig farmers in Mhondoro, Zvimba, Kadoma and Chegutu districts.
"My role as an integrator will help tackle some of the challenges faced by smallholder farmers involved in pig farming. These include poor breeding stock, high cost of semen, lack of extension services, high cost of stock feed, lack of markets and high transport costs. Also, access to abattoirs and cold chain facilities and unavailability of drugs are adversely affecting the farmers", added Mudanga.
Working with 10 champion farmers and 20 anchor farmers, Braford Farming will be capacitated to support at least 500 pig farmers in the four districts.
"Once we have mobilised these farmers, this will lead to the establishment of a Pork Production Business Syndicate (PPBS) which will be involved in the production and marketing of pigs. Essentially this will be a cluster for mentorship training and capacity building to progressively increase breeding stock to commercially optimal levels".
According to Mudanga the average birth rate of his sows is 12.5 compared to that of smallholder farmers at 10 and below. Production levels will be improved through breed improvement – new genetics to be passed on to champions and anchor farmers and subsequently to the smallholder farmers. Other key activities will focus on artificial pig insemination, reducing the cost of feed through on-farm feed production and establishment of cold chain facilities.
Braford Farming will lead the Mashonaland West PPBS while Shamiso Farm in Marondera will focus on the Mashonaland East PPBS. The two corridors are targeting 1,000 producers.
"I see a brighter future for pig producers for the Mashonaland West corridor. The PPBS will improve breeds, increase production and ultimately lead to increased incomes, increased job opportunities and safer and better value food products, said Mudanga as a parting short.