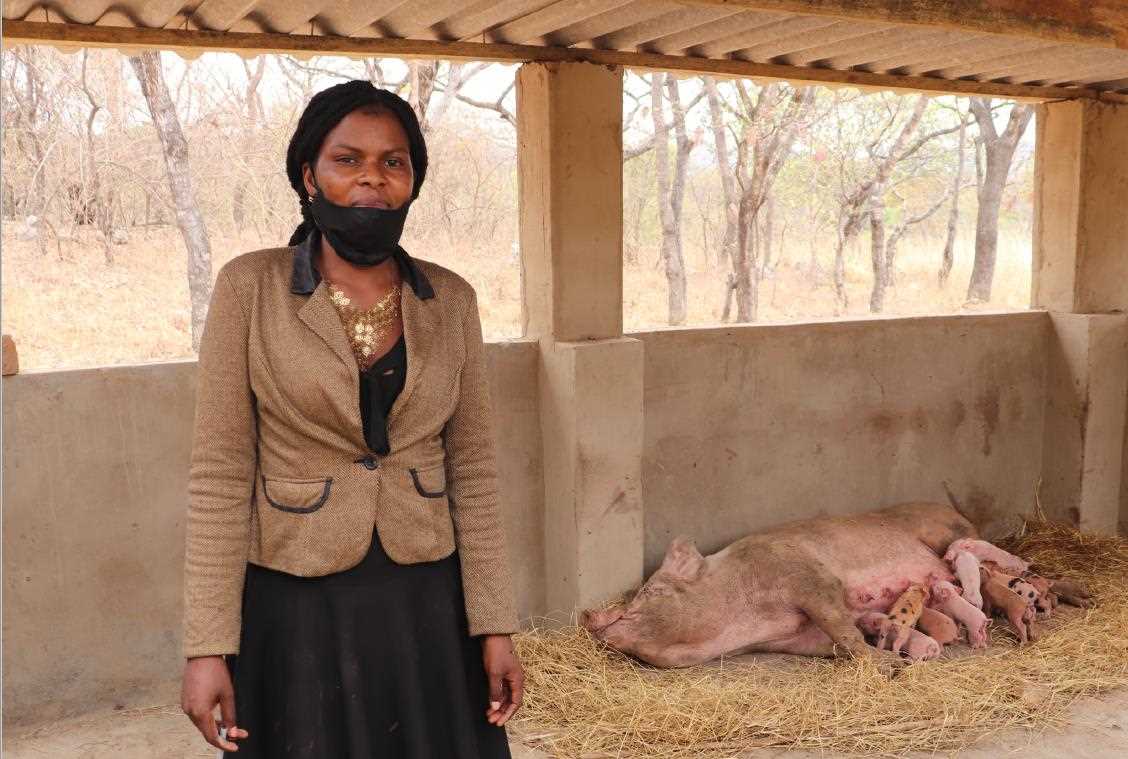 Junior standing in one of the renovated pig sties
Tucked away at the base of a small hill and surrounded by several species of indigenous trees lie modest housing structures a stone throw from which are located old pig sties being spruced up by a joyful bunch of builders. This is Junior Gwata's house – an energetic young woman from Murehwa district's ward 9, she has run this pig enterprise since 2005 with her husband.
"We started this project in 2005 with a two-sow unit and have gradually grown it to the current 14-sow unit that you can see. In our journey we have been faced with several challenges include high feed costs, erratic water supply and an aging infrastructure," says Junior.
Having been selected to participate in VALUE project, Junior underwent comprehensive training on how to run a commercially viable pig enterprise, animal health, biosecurity, appropriate animal housing, among others.
"The trainings conducted by the project made us realise that even though we had good pig breeds, our pig sties were not up to acceptable standards. We however did not have the requisite finances to renovate them," added Junior
Through the local government extension personnel, junior learnt of the smart subsidy initiative set up by the project as part of its value chain upgrading strategies and she applied for a grant to renovate her old pig sties.
She was successful in her application and received materials such as cement, roofing sheets, roofing timber among other material worth $US1,458. On their part, Junior and her husband chipped in with a 30% contribution that covered labour, brick moulding, purchase of river sand and quarry stones.
The young couple is optimistic about the future of their enterprise.
"Our target is to run a 25 sow-unit by end of next year (2020) and make further investments towards putting in place more reliable water sources for our project.
Junior is among 43 other farmers in the goat and pork value chains registered under the VALUE project to receive support under the first window of the Livestock Matching Grant.