T
he Zimbabwe Agriculture Knowledge and Innovation Services (ZAKIS) project seeks to link Agriculture research, education and extension. The initiative brings together public and private institutions with a focus on improving farmers' productivity and incomes through the delivery of well researched modern knowledge and extension. The overall objective of ZAKIS is to enable farmers and value chain actors to improve their lives and contribute to agricultural growth and rural green-economic development.
Welthungerhilfe Zimbabwe is partnering with Sustainable Agriculture Technology, International Crops Research Institute for the Semi-Arid Tropics (ICRISAT) and Community Technology Development Organisation.
The specific objective of ZAKIS is to demonstrate a farmer-centric and integrated research-education-extension framework that establishes a market-oriented rural agricultural sector.
Agricultural Centres of Excellence
ZAKIS has established two Agricultural Centres of Excellence (ACEs) at Chibero College of Agriculture (Northern region) and Matopos Research Institute (Southern region).
The ACEs are institutions where crop and animal husbandry research is conducted, Good Agricultural Practices are demonstrated, and modern farming technologies are showcased and developed. The physical ACEs will be administered by the Department of Agricultural Education and Farmer Training (DAEFT) in collaboration with the Department of Research and Specialist Services (DR&SS) and the Department of Agricultural Extension (AGRITEX).
The ACEs are complemented by ZimAgriHub, a virtual centre of excellence, and the District Agricultural Centres of Excellence which are located at Matobo, Chegutu, Insiza and Mhondoro-Ngezi.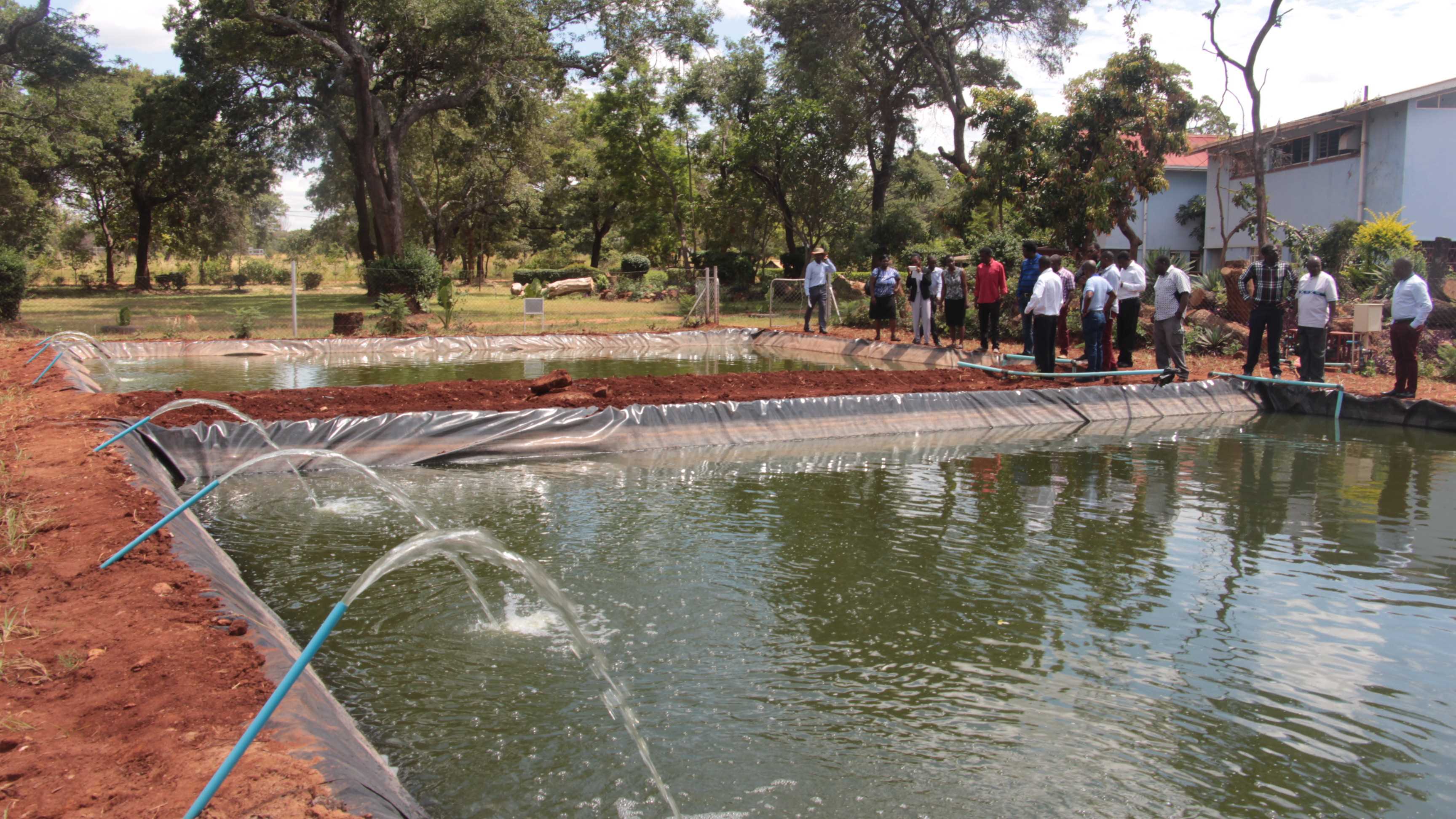 Newly constructed fishponds at Chibero for which Fishfeeds has partnered by providing 3000 fingerlings and feed to establish the fish training enterprise within the ACE.
Improving Agricultural Education
ZAKIS spearheaded the launch of the Agricultural Education for Development 5.0 (AE4D5.0) The new curriculum incorporates training on business advisory, research, innovation and entrepreneurship. It aims to create graduates capable of transforming agricultural production, setting up agricultural enterprises, creating employment and adapting to dynamic agriculture landscape and changing value chains.
Digital Innovations
The project has developed and deployed ICT innovations to improve agricultural education, and extension. ZimAgriHub, a virtual ACE, ZimAgricExtension In-Service Training mobile application and the Lead Farmer Online Training Programme were launched. To date, at least 290 agricultural extension staff members are utilising the In-Service Training app.
ACEs Embark on Commercial Enterprises
The commercial enterprises that were established at all the ACEs and DACEs by the Zimbabwe Agricultural and Knowledge Innovation Services (ZAKIS) project are now operational. The enterprises operate projects in the horticulture, broiler chickens and aquaculture value chains. They were established to generate income that allows the centres to become self-sustaining while providing low-cost knowledge sharing services to farmers.
PROJECT RESOURCES
Focus shifts to export marketing for Agritex officers
Fish farming training for Agritex officers
Follow the ZAKIS project on Facebook and Twitter