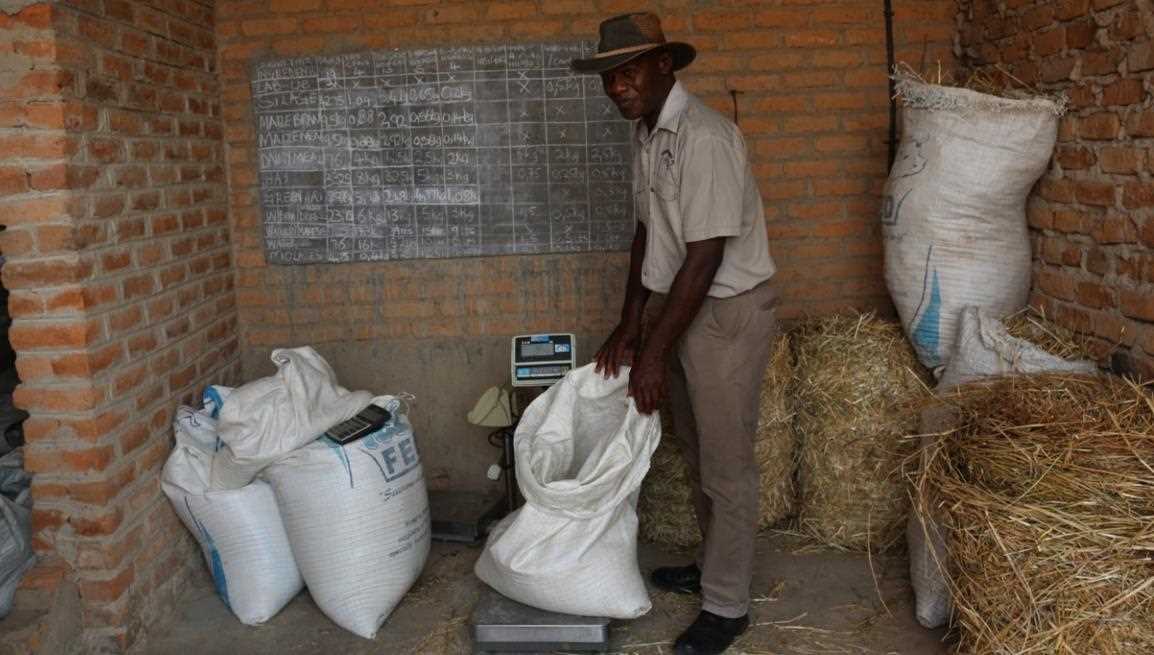 Taona Rusere weighing dry feed at his farm.
Dairy farming plays a critical economic and nutritional role in the lives of many smallholder farmers working with TranZDVC.
Zimbabwe's small-scale industry lacks quality service providers, as well as access to the necessary farming skills, inputs, technology, and electricity. As a result, smallholder farmers are missing out on the prospects of increasing their incomes from milk production.
To address these issues, TranZDVC is training dairy farmers – through partnering with the Zimbabwe Association of Dairy Farmers (ZADF) countrywide on fodder production, especially on appropriate drying and preservation of fodder and pasture grasses, mainly focusing on hay and silage making.
The project has also trained farmers on how to mix the dried fodder with other feeds as well as preserving surplus fodder for use during the dry season. Farmers who have adopted the increased use of dry feeds have, on average, raised milk productivity by about four litres per cow.
Taona Rusere, of Tadence Farming Private Limited, in Marirangwe area in Chikomba district, in Mashonaland East Province, has won the ZADF's top award of Small-scale Dairy Farmer of the Year for 2019, just three years after venturing into commercial dairying.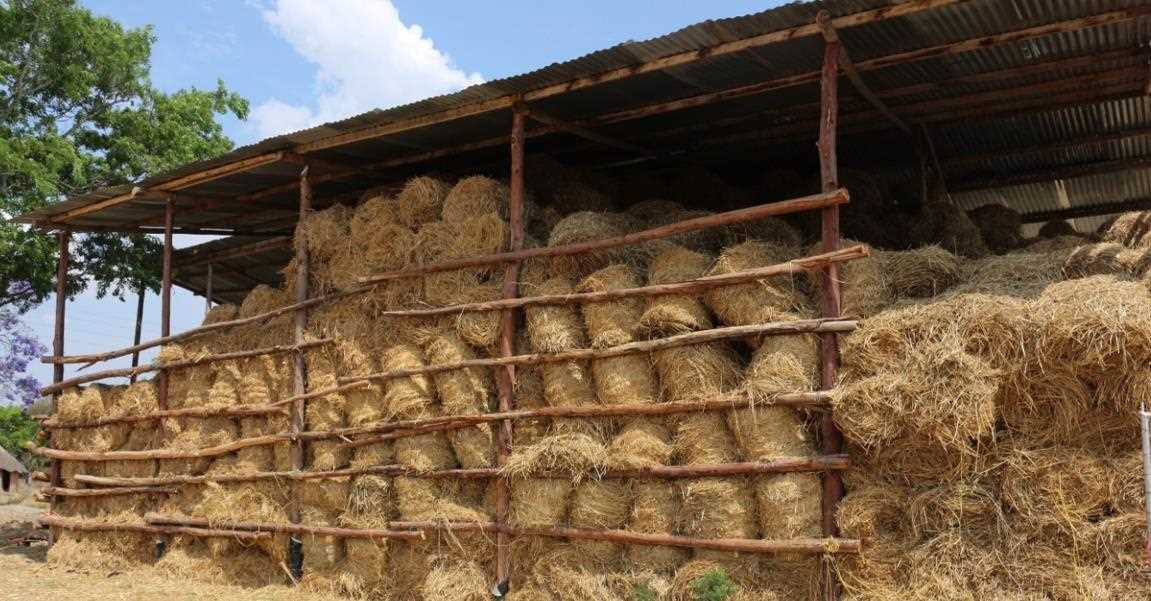 Resources, such as hay, are critical to the success of dairy farming. Here, Rusere's hay feed in a shed at his farm.
"It's critical for dairy farmers to access resources as well as financial and market linkages,'' Rusere observed. ''One needs to get his/her model right from the start – you shouldn't shift mid-stream. For example, you need to use the right model in your feeding regime, breeding and milking processes.''
In line with this, Rusere's milking system is mechanized, and he uses zero grazing, and artificial insemination in breeding so as to be effective with the dairy herd. ''Record keeping should also be up to date, he said. ''I have also taken dipping seriously as one of my key success factors in dairy farming.''
Through his participation in TranZDVC project, Rusere had a change of fortunes. He benefitted five dairy cows under TranZDVC's Matching Grant Facility, a solar powered borehole and now has enough stock feeds for his cows.
He is milking 19 cows and producing 400-450 litres a day. Plans are underway to increase production to 500 litres of milk per day, especially during the wet season. Rusere is continuously learning from TranZDVC's approach of demonstrating effective, efficient, and profitable ways to feed dairy cows.
Rusere is also working on a project to reduce input costs through on-farm feed production. Rusere continues to take advantage of TranZDVC's training programmes on animal husbandry, business and marketing management. All this helped him to scoop the overall winner of the Small-scale Dairy Farmer for the year, 2019.
The Small-scale Dairy Farmer of the Year judging process involved a three judge as panel visiting farmers across the country who had been adjudged as regional winners.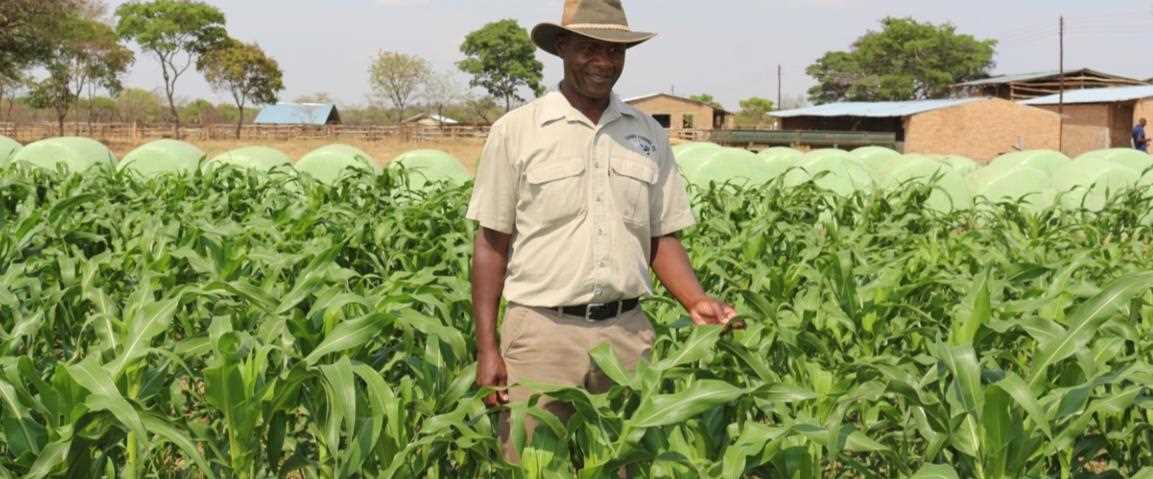 Rusere is his maize field. He uses the maize products to reduce inputs costs through on-farm feed production.
The Small-scale Dairy Farmer of the Year judging process involved a three judge as panel visiting farmers across the country who had been adjudged as regional winners. The judges conducted interviews with the participants to test their knowledge on particular dairying systems and then independently scoring them. The places visited were Marirangwe, Nharira, Tsonzo, Rusitu, Hamaruomba, Umzingwane, Gokwe and Chikwaka. The whole process took two weeks. Judging was in three categories of farmers, the Farmer of the year, the Woman in Dairy and the Youth in Dairy. All categories were scored using exactly the same criteria.
Main highlights of the judges' comments included the general condition of the animals which appeared reasonable in Marirangwe, Nharira, Tonzo and Rusitu. Dairying infrastructure could be improved, especially among farmers who had been in dairying for a long time. They still had the 1980s style parlours. For all the years in dairy, no improvements have been made, the judges said.
''Quite a significant number of the participants did not have good animal sheds to protect animals from heat stress. Milking procedures appear to be well known by the farmers although a few of them used plastic utensils,'' said the judges' report.
Only three farmers participating in the competition had silage at the time of judging. This showed inadequate fodder flow planning. Farmers generally were making insufficient silage to last at most four months. After the silage ran out, farmers relied on commercial feeds - a very expensive way of feeding dairy animals. The farmers, added the report, also knew the qualities of good hay and how it is made, nevertheless only a few had good hay, bought from elsewhere.
''A business focus was clearly lacking especially among old farmers who had been in dairying for many years, '' said the judges.
Overall, the judges recommended training and technical assistance in dairy business management for the farmers.