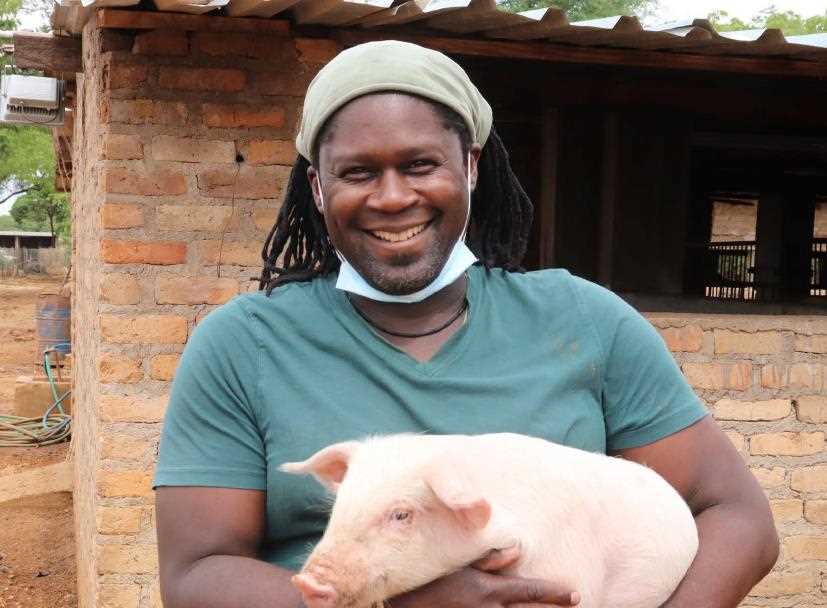 Peter Musavhaya is a man on a mission, based in Ward 29 of Chegutu district, the Champion pig farmer was recently elected to lead the Mashonaland West Pork Producer Business Syndicate. Musavhaya has a palpable passion for 'hogs' that has seen him grow in leaps and bounds.
Having ventured into pig farming just over seven years ago with a boar and five sows, Musavhaya has through hard work and sheer determination grown to a 60 sow unit serviced by 2 boars.
"With the formation of the producer syndicates, we are now in a position to come together and drive the commercialisation of small and medium pork producers in our district and province," said Musavhaya.
Over the past couple of years, small and medium pig producers have been faced with several challenges including droughts, shrinking markets and unreliable access to drugs and vaccines. In response to this, the pig producer syndicates will ensure collective action in backward and forward logistics to ease the pressure on individual farmers.
"As a syndicate we are pushing for breed improvement, for better yields, undertaking collective action through bulk input suppliers especially drugs such as farrowsure and marketing of slaughter stock and working to address bottlenecks along the whole value chain," added Musavhaya.
In addition to this, the syndicate is working to lower the cost of production mainly driven by feed costs which constitute between 60 to 85% of all production costs. One of the ways being explored and encouraged is on-farm feed formulation.
Musavhaya grows maize and soybean which he processes using a grinding mill on the farm.
"On farm feed formulation has to potential to cut feed costs by up to a third, I would urge pig producers to grow own maize and soybean and then buy premixes"
Besides being a well-established pig producer, Musavhaya is a fully fledged livestock farmer with interests in cattle ranching and goat rearing and he is currently running an experiment with Saneen and local goats to venture into goat diary He is also in the process of establishing a slaughter house with cold chain facilities, which will be accessible to other pig producers under his leadership in the district.