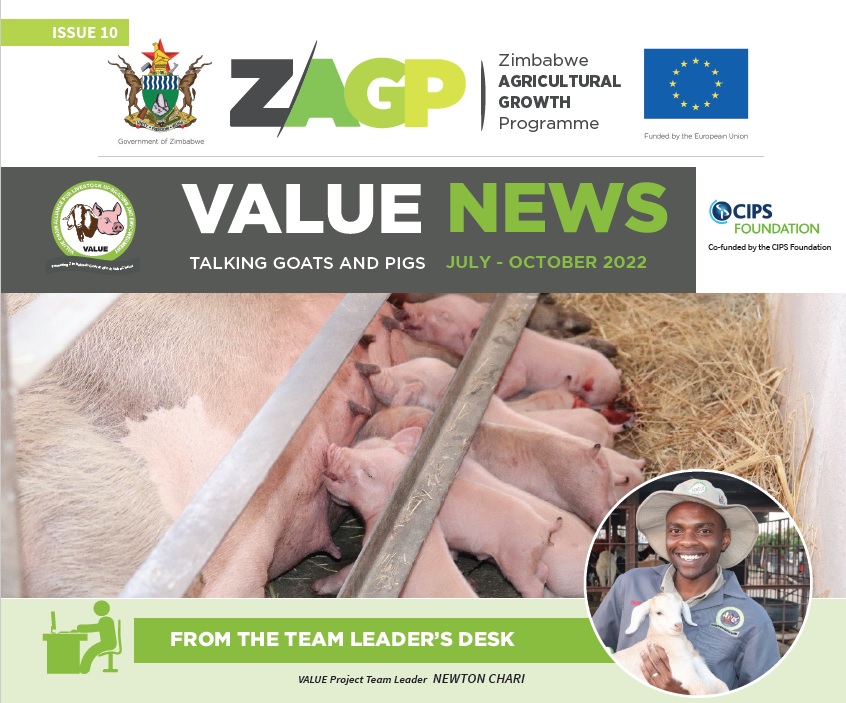 I welcome you to the tenth issue of our quarterly newsletter – Talking Goats and Pigs. During the period July to October 2022, we continued with programming aimed at commercialising goat and pork producers mainly through direct meat marketing to licensed independent butcheries in Harare and Bulawayo.
The quest for providing platforms for competitive markets of goat and pork meat continues under the various Direct Meat Marketing (DMM) arrangements. To date a total of 2,223 goats giving a total of 24,430 kg of goat meat have so far been sold to 43 butcheries in Harare and Bulawayo by 661 farmers, generating revenue of USD76,000. Under the pork value chain, a total of 15,000kgs were sold to the markets including at the Meat Marketing centre in Kuwadzana Extension as a pilot.
As you may recall, in 2020 we imported pig (244) and goat (280) breeding stock to kickstart breed improvement programmes among small and medium producers participating in the project. I am delighted with the recorded increase in access to top quality genetics by small holder farmers across the 20 districts of operation. In this issue, we present stories of change from farmers who have accessed the improved breeds.
Pursuant to the objective of enhancing the agribusiness environment, during the period July to October 2022, the project facilitated policy engagement meetings between goat producer associations and district stakeholders in Buhera, Mudzi and Mbire for immediate redress of bottlenecks in production and marketing.
In collaboration with the Goat Breeders Association of Zimbabwe, we organised the 2022 edition of the goat indaba which brought together various value chain players and policy makers.
I invite you to delve into our latest news edition as we share success stories, key project updates and much more.