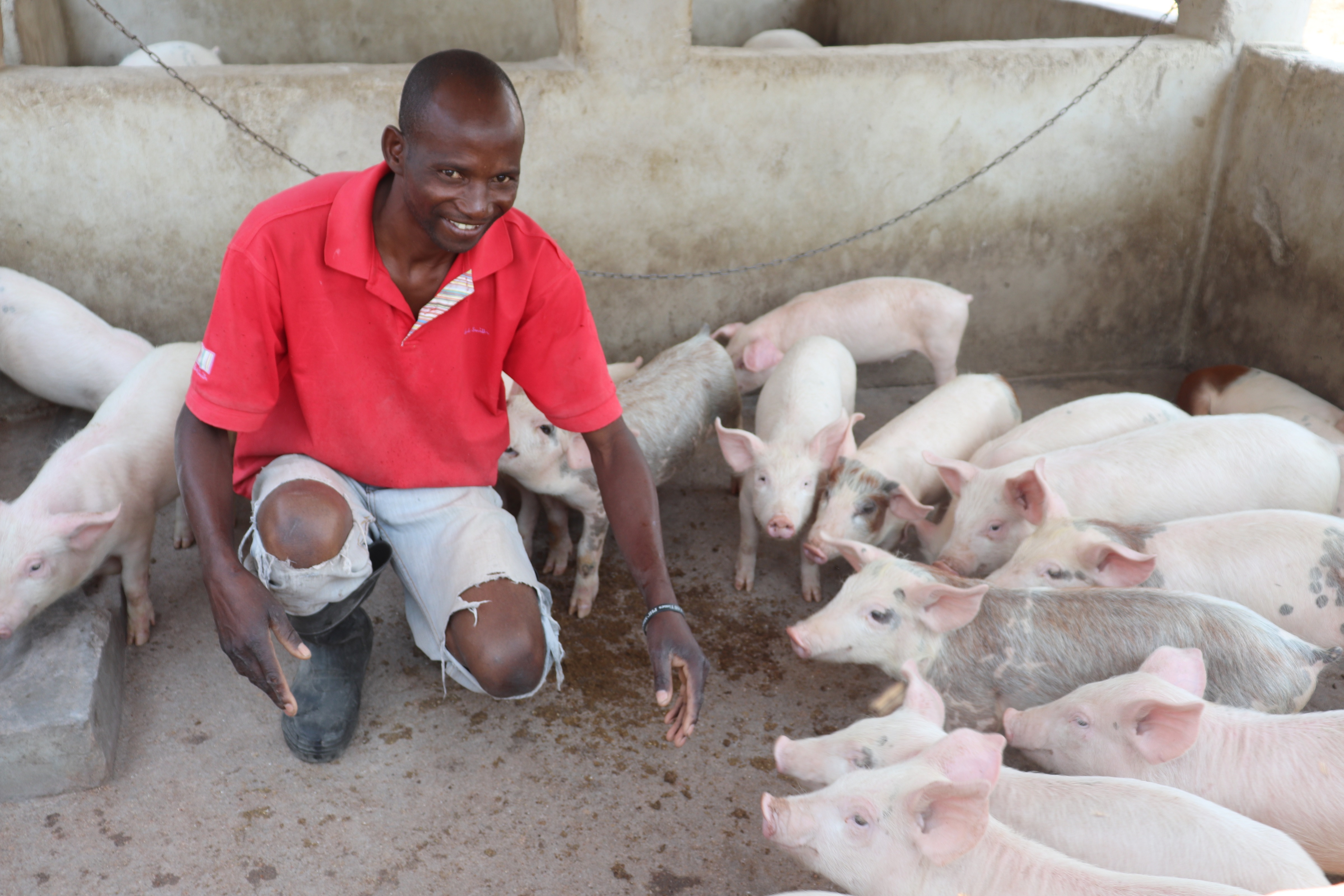 Thomas Muchenje, a pig farmer from Chidhakwa village in Murehwa of Mashonaland East province, has been selected to be an anchor farmer.
At a time when small and medium scale pig producers are faced with grinding challenges related to high cost of feed and veterinary drugs, lack of access to viable markets and disease outbreaks among other issues, there is hope for the value chain through the interventions of the VALUE project.
Farmers registered so far under the VALUE project are raring to go in expectation of life changing interventions to address the bottlenecks they are facing. The anticipation of the small and medium scale farmers to upscale their production and productivity is aptly expressed by Thomas Muchenje, a pig farmer from Chidhakwa village in Murehwa, Mashonaland East province. Thomas was selected to be an anchor farmer under the project to select and work with nine other small and medium scale farmers in his area to move towards commercialisation. He is a man driven by passion for pig production and has set his sights on commercialising his enterprise.
"I have a strong passion for pig production which led me to start this project in 2016 with three sows that I purchased locally. Over the past three years I have grown the number of sows to 11 as I seek to generate more income from the project".
However, incessant droughts, policy and regulatory constraints and the prevailing inflationary environment have cast doubts on the projected growth of farmers like Thomas.
He contemplatively talks about the challenges he is facing in pig production.
"Some of the viability challenges we are facing include the high cost of feed, veterinary drugs coupled with the lack of access to abattoirs with cold chain facilities and lack of viable markets for the pork products. We end up selling the products either locally or at low prices as a result," said Thomas.
The big cheer for Thomas and his fellow small and medium scale farmers is that the project is organising the farmers into Pig Producer Business Syndicates which will aggregate their efforts to take advantage of economies of scale, offer trainings of farming as a business, good farm management practices. This will also lead to the establishment of new markets and set up an abattoir with cold chain facilities to ensure that off takers easily get access to the pork meat products.
Thomas has high hopes on the project to address the viability challenges in the pig industry especially for small and medium scale producers.
"The VALUE project has come in at the right time when most pig farmers were contemplating destocking their animals due to the binding constraints currently being experienced," added Thomas.