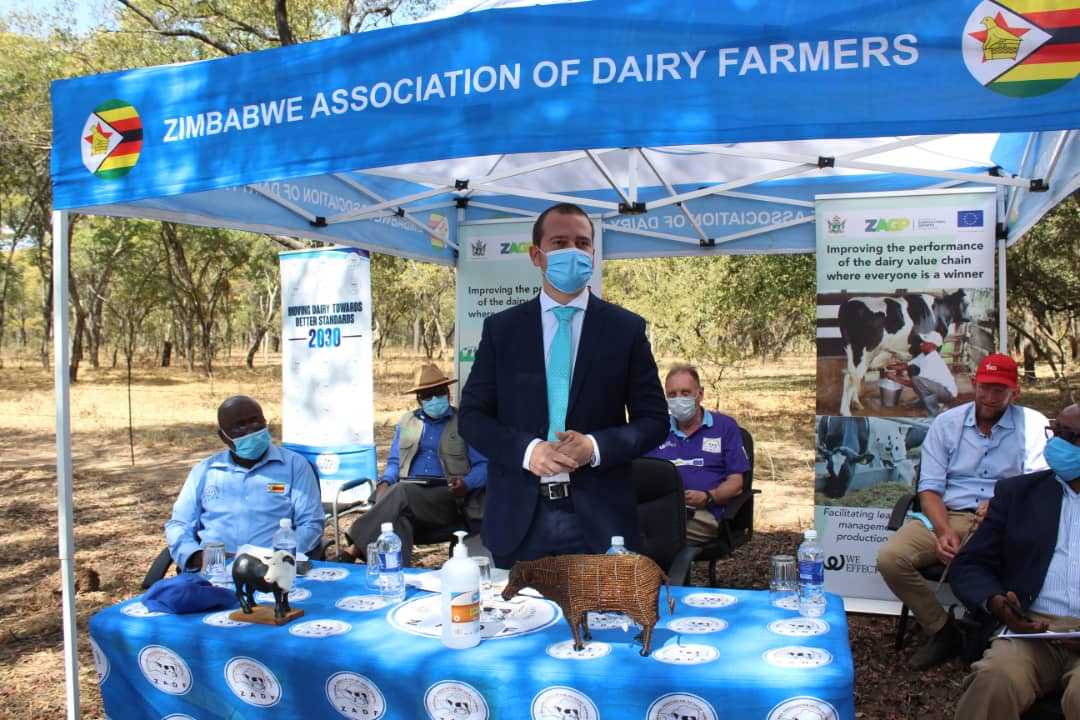 Honourable Vangelis Haritatos delivering the keynote address at the handover ceremony.
The Transforming Zimbabwe's Dairy Value Chain for the Future (TranZDVC) project, has handed over 105 in-calf heifers imported from South Africa, to boost the country's dairy sub-sector. Twenty-two small-scale farmers in May benefited from this consignment through milk processors - Prodairy, Nestle Zimbabwe and Dendairy, who will match on a one - to -one basis what TranZDVC procured. The heifers, a cross breed between Jerseys and Jersey Friesian crosses, are expected to improve the quantity and quality of the national dairy herd.
Guest of Honour at the handover ceremony of the first batch of 105 heifers that arrived in Zimbabwe in April 2020 held at Bhara Bhara Farm in Marirangwe area in Mashonaland East province, Deputy Minister of Lands, Agriculture, Water, and Rural Resettlement, Vangelis Haritatos told the beneficiary farmers to take farming- as- a- family business, and improve the production and productivity of Zimbabwe's dairy value chain.
"I urge all beneficiary farmers of these in-calf heifers distributed here today to maximise the opportunity presented to them by the TranZDVC project and the government of Zimbabwe, to scale up their milk production efforts," said deputy minister Haritatos. The project is investing in interventions that will contribute directly to continued development of Zimbabwe's dairy sub-sector.
So far, TranZDVC has imported 200 heifers that we are going to distribute through private sector partners (large-scale processors) who include Dendairy, Dairibord Zimbabwe, Kefalos, Prodairy and Nestle Zimbabwe.''
A second consignment of 95 in-calf heifers will be imported from the same supplier of the first batch, Cape Eastern Livestock South Africa. These will be handed over to Dairiboard Zimbabwe and Kefalos for distribution to another 26 small-scale dairy farmers.
Addressing participants at the same event, Goran Forssen, the We Effect Country Representative said: "The project is about increasing the production of milk in Zimbabwe from 75 million litres (in 2018) to 120 million litres (by 2022) per year and increasing the participation by small-scale farmers, especially women and youth, in the dairy value chain".
To achieve this, the project is targeting 4,000 small-scale dairy farmers that are currently unable to participate in organised marketing of milk. Zimbabwe's dairy herd of 123,000 cows in 1990, at one point, produced more than 260 million litres of milk annually, but production declined over the years, with an estimated 39,000 dairy cows left. The annual demand for milk currently stands at 120 million litres and there is a deficit of 45 million litres.
Mudiwa Mupfanochiya, one of the farmers who received 10 heifers is involved in dairy production at Ponderossa Farm in Umzimgwane district in Matabeleland South province, is already looking forward to increased milk production.
"I applied for five heifers through this facility and received an additional five heifers from the project through Dendairy. This is major step in improving milk production at Panderossa Farm. I currently have 30 milking cows and producing 150 to 200 litres of milk per day using a low input and low output system"' said Mudiwa. He is seeking to boost milk production to 15 litres per cow per day.
Speaking earlier in May during another heifer hand-over ceremony at Dendairy Farm in Kwekwe, in Midlands province recently, TranZDVC project coordinator, Dr Edson Chifamba said: "We also have a heifer facility where we are buying 500 in-calf heifers that we'll distribute to farmers on a one-to-one match. Buy one and get one. This will result in a herd increase of 1,000 dairy cows".